Affinity Designer Ipad Trial
I've been hearing a lot of good things about Affinity lately, so I took the Affinity Designer free trial for a spin this weekend to see how it compares to Adobe Illustrator.
Long-time user of Serif products, chiefly PagePlus and PhotoPlus, but also WebPlus, CraftArtistProfessional and DrawPlus. Delighted to be using Affinity Designer, Photo, and now Publisher. IPad Pro (11') running Affinity Photo and Designer (iOS 14.4). Say hello to the powerful new Contour Tool! This time-saving addition. Affinity Designer for iPad offers many typography features. You may add text to paths, fine-tune the kerning and tracking and import your fonts. Moreover, if you want to, you may add guidelines to create lettering or convert fonts to outlines. Affinity Designer: One-Paid Price. Serif offers one Affinity Designer plan for all users.
I was a little reluctant to even try another Adobe alternative after trying out a few free photo editing programs (they just didn't compare to Photoshop in the slightest).
Disclaimer: this is nota sponsored post and it containsno affiliate links!
TL;DR at the beginning!
Here's the short version what I'll be covering in this post, but I encourage you to stay for the juicy details further on.
The hook – I was drawn in by the one time fee, and the pixel-to-vector capabilities.
First impressions – I booted it up, sat down and pressed every single button to figure out what tools were available. Everything felt surprisingly familiar, and any different shortcuts came naturally.
New toys – I particularly enjoyed playing with the Assets tab, new shapes tools, stroke options and insanely good isometric tools
Negatives – taking me a while to find where my everyday tools are like expand stroke and convert to object (convert to curves)
Final thoughts – I'm sold. Read below for how I plan to transition from Adobe Illustrator to Affinity Design!
Now, in more detail! Grab a cup of tea.
The hook
Ok so here's the deal. I'm a sole trader. I design things and make artwork to make a living. I grew up teaching myself Adobe Photoshop CS2 and haven't stopped using Adobe products for 14 years. I can, and have, given verbal tutorials to people who need help because I know the interface so well.
So why change?
The #MadeWithAffinity tag has been popping up a lot in my social media feeds lately, particularly in the TTRPG community after the launch of Affinity Publisher (a competitor to Adobe InDesign). Curiosity lead me to the Affinity website, where I perused the latest features of their Designer software.
The features are very appealing, but honestly? So is the price tag. No subscription fee for a piece of software that I will use every single day? Yes please. (Hey then I can save up for an iPad and use it on there too because its on all platforms!)
With my current passion for pixel art, I was especially interested in the pixel-to-vector capabilities of Affinity Designer. Single slit diffraction examples.
This would rapidly increase my workflow as it would mean I could work in one program AND scale my work up to print-ready sizes.
But could it really be that good? Would I even like the interface? There was only one way to know.
First impressions
First off, it seemed to be pretty quick to load. Not huuuugely quicker than Illustrator, but I noticed a small difference. Anyway. Not important.
New document set up, you know the drill.
Press.
Every.
Single.
Button.
Like an annoyingly inquisitive child. "What does this button do?"
That's how I learnt it originally, so this is how I familiarized myself with the workspace. Honestly I felt very much at home. It has a similar layout to what I'm used to but with lots of new features to explore and play with.
The shortcuts were all preeetty much the same – the only one that I had to adjust to was scaling to an anchor point (which normally for me is Alt + scale, but in Affinity is Ctrl + scale). I'm comfortable enough with the change but if I really want to I can change the keybindings in the shortcuts.
New toys
I have really only scratched the surface while playing with the Affinity Designer free trial, but I particularly enjoyed playing with the Assets tab, new shapes tools, stroke options and insanely good isometric tools.
First, the extra shape tools. Aside from the basic rectangle, ellipse, and rounded rectangle tools, there's a whole tab of EXTRA SHAPE TOOLS AND I LOVE THEM.
These make me want to go and design sexy flow charts and infographics.
Every shape is customisable. Radius. Inner radius. Percentages. Points. Sides. Curve. Everything.
I made one of every single shape and went to tweak each aspect of its properties to see what it does.
I was blown away by the grid and isometric tools because firstly – the grids are there already. No setting up multiple grids, guides or custom shapes funny business. Straight to it. BUT BUT BUT – you can draw IN the planes and snap/transform your designs onto the different surfaces!!
I saw an amazing tutorial on this by Brad Colbow – check it out it's a super quick video:
Negatives
It is taking me a while to find where my everyday tools are like expand stroke and convert to object (which is now convert to curves). I haven't yet mastered the shortcuts and explored every part of the software yet, so sometimes I'm having trouble selecting a bunch of objects which can be frustrating. A bit of searching on the web soon brings up the solutions to my problems though, so all is not lost.
The other negatives?
I'm going to throw more money at things to buy this.
I will need to invest some time to learn this.
I'm really salty that I didn't buy this in the sale that literally just finished a month ago.
Final thoughts
I'm sold.
When my next invoice is paid I am going to dive in head first and buy a copy of Affinity Designer.
"But TJ what about Adobe Creative Cloud?"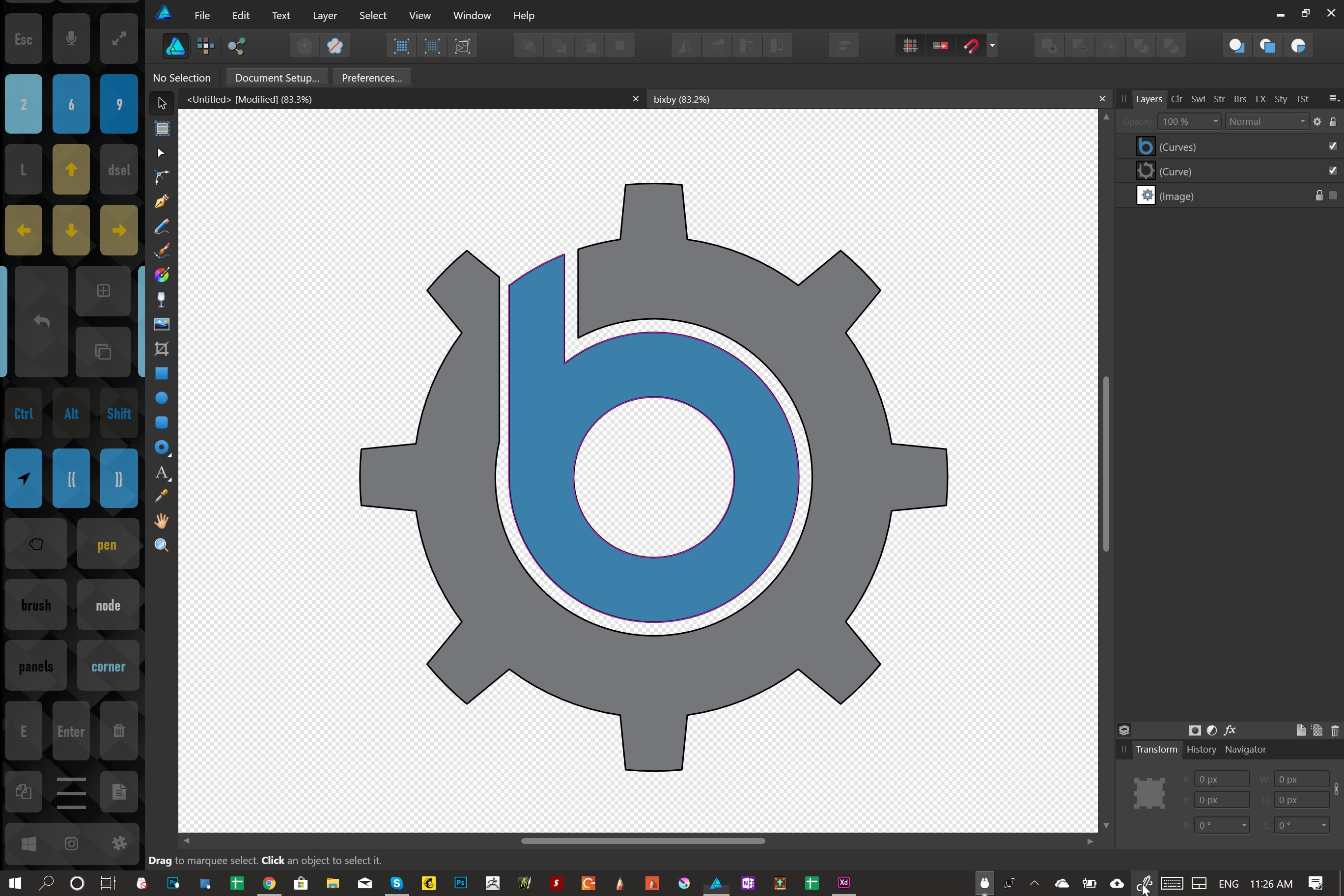 Affinity Designer Ipad Trial Version
Ok ok. Real talk: I love learning. I also love saving money so that I can save up for better tools to improve my workflow and quality of life. My plan is to continue using Adobe for my client work (beacuse I need to work quickly and efficiently), and start using Affinity on my personal projects. I can export the files as .psd, .svg and .eps if I need to switch between the two, so no worries there.
I forsee that I will get to an opportunity in my work where I may be able to transition fully from Adobe to Affinity (my pronouns are .png/.jpg) and save a bunch of money.
I currently pay £596.33/year (around $720 USD for my American folks) for the entire suite – all the Adobe apps. I predominantly use Photoshop and Illustrator. If I had chosen these two apps on the Single App plan each, that'd be around £476.84 – which is only £119.49 off having 20+ extra applications.
Lately, my work has also dabbled in animation, for which I use AfterEffects, which is why I feel that I can't completely drop Adobe just yet.
I'm going to ramble through my thoughts right here so that I can reflect on them, and anyone else in the same boat can do their math as well.
(how do I do tables in WordPress?) one sec Found it!
Software
Price
Affinity Designer
£48.99
Affinity Photo
£48.99
Affinity Publisher
£48.99
Adobe Photoshop, Illustrator & InDesign
(if purchased on Single App plans paid annually)
£715.26/yr
Adobe Creative Cloud (All apps, paid annually)
£596.33/yr
1 Adobe Single App paid annually
£238.42/yr
The look on my face when I can save some money?
Priceless.
Now, please don't go making financial decisions based on a freelancer's blog post. (Also the above prices may not be accurate so go and double check for yourself in case they have been updated!) But. I reckon that if I invested £146.97 in a one off Affinity splurge, I could be saving £357.91 per year by cutting down to one single Adobe boye to use for editing/animation. At this stage in my life, that's quite a nice saving.
Time to wrap up the blog, TJ is rambling
Ok points made. I really liked Affinity Designer. I have not yet tried the free trials for Affinity Photo & Affinity Publisher (I will be). It has re-ignited my passion for design and it feels like being able to play your favourite video game with fresh eyes and experiencing it with awe and wonder.
Quick question:
Have you tried any Affinity software? Are there any things that you don't really like about it? Let me know in the comments below
Just as Serif is taking on Photoshop with its Affinity Photo editor and InDesign with Affinity Publisher, so Affinity Designer sees the company competing with Illustrator. This particular app was the first one to be released as part of the Affinity range, and over the course five years development has been strong.
Affinity Designer is a vector drawing app that, despite being amazingly cheap, offers professional-level tools that can be used for all manner of projects. While this is clearly a rival to the likes of Adobe Illustrator and Sketch, you'd be forgiven for initially dismissing it as being underpowered. But don't be fooled. Serif describes this software as a 'stripped back, pro-end workhorse', and it's absolutely right.
Designer can handle huge documents with ease and gives you the option of switching between vector and raster workspaces, and the ability to work in RGB or LAB color spaces at up to 32-bits per channel. There is a wide range of vector tools available in the app, and vectors can have an unlimited number of strokes and fills for maximum flexibility. Grids and guides are advanced and powerful, and the isometric option will be welcomed by many users.
For anyone switching from Illustrator or collaborating with Illustrator users, the good news is that Designer can open AI and EPS file, although sadly it's not possible to save as AI. There are a number of both pixel and vector brushes depending on which mode you're working on and, importantly, performance is impressive.
Affinity Designer Ipad Tutorial
For all of its brilliance, Affinity Designer is lacking in a few areas. It's a shame to see that there is no support for scripting or animation, and also that there is no plugin support.
What's new in 1.8.3?
- Various stability and performance improvements
Verdict:
Affinity Designer Ipad Align
Affinity Designer is an astonishing achievement by Serif; this is a highly accomplished design tool which fits beautifully into the Affinity range and serves as a genuine alternative to the big names such as Illustrator.